Why the Need to Consider a Sample Reference Check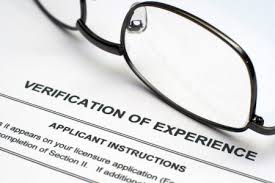 According to certain studies and surveys, about 43% of job applicants lie during their employment application. While some may not completely lie, some have at least entered some false information on their resume. Most of these applicants lie about job titles, employment dates, prior employers' inflated salary, educational degrees, criminal records, professional licenses, and other information. This is the reason why there is a need for a company to conduct reference checks.
Where to Start
As a company looking to hire individuals to perform certain tasks within the company, it is very important to make sure that the people hired for the position are reliable and trustworthy. One way to do so is by performing reference check on the background of the individual applicants. However, performing the process as part of the standard tasks in the company can turn out to be a hassle, as there may be a need to add manpower to perform the job.
The best option here is to hire the assistance of a company who can perform reference checks. All that a company needs to do is to take a look at a sample reference checkform in order to see whether or not the items included are enough to expose or discover things about a particular applicant. Among the information that are generally available in a sample reference check form include information, which will be asked from the previous employer of the applicant.
The questions may include verification whether or not the applicant was indeed a previous employee of the said company. Then, the applicant's employment dates will also be verified, including the salary, both starting and ending. Other information may also include the reason why the applicant had to leave, the position and tasks handled and an explanation regarding the overall performance of the applicant as an employee.
While most of the questions are straightforward, there is an assurance that they have been professionally laid out, and will not harm the reputation of the individuals involved, including the company as a whole. Most often, the last part of the sample reference check is a question whether or not the company would want to consider rehiring the person again. With this information, the company in which the applicant is applying can have an idea whether or not hiring such an applicant would prove to be beneficial for the company or not.
These days, where honesty is very important particularly in the field of labour and employment, conducting reference checks using sample reference check forms and other methods is very important. This is the reason why companies such as the Recruit Check exist - in order to provide assurance to companies during their hiring process.