More Employers are Relying on Background Checks in Australia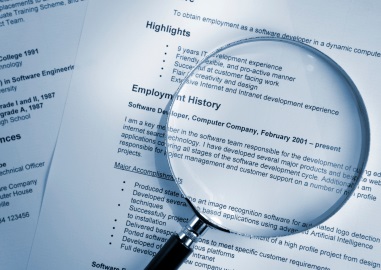 A background check is simply a process designed to find out information about someone that may not be readily available. Much of this information is related to a person's:
- Financial History
- Motor Vehicle Information
- Criminal Background
- Professional History
- Public History
- Civil Background Information
- Educational Background
More and more organizations are relying on solid background checks to guarantee that they have successfully performed their due diligence when hiring or interacting with an individual new to their organization. This preventative measure is particularly important when you will start working with a person in a position of trust or security. What organizations are more frequently looking for dependable and trustworthy methods for conducting checks in Australia?
- Educational Facilities
- Airports
- Hospitals
- Financial Institutions
- Government
Because of today's technologically-saturated environment, it unfortunately is becoming easier for untrustworthy individuals to hide their offenses. Make sure your business decisions are being made with accurate, expedient information. Comprehensive pre employment checks can assist you with finding this information and ensuring that the individuals you are working with or collaborating with really do have the background they say they do.
Fill in the Candidate Details now!
Who Should You Trust to Conduct Background Checks in Australia?
The job can be cumbersome and expensive, because they typically require much research, persistence, and concise compiling of vast amounts of information. The complexity associated with a thorough background check is of utmost importance, however, because an accurate depiction of an individual's background is crucial if you are to be working with that individual in a position of trust.
What are some important factors to consider when choosing a company to conduct background checks?
- Is the company trying to recruit a particular candidate?
- Is the company knowledgeable of privacy regulations in Australia?
- Is the company's method standardised?
- Does the company have the persistence and follow-through required to gain valuable, hard-to-find information?
RecruitCheck is the premier online company you should trust to conduct your checks in Australia. With Recruit Check, you can rest assured that you will be able to obtain all the necessary information to make sound, conscientious decisions in your hiring process.
Rely on RecruitCheck for Your Background Checks in Australia
Why should you depend on RecruitCheck? Our staff embodies the right characteristics needed to successfully conduct comprehensive employment checks in Australia:
- We are professional and persistent and won't quit until we obtain the information you are seeking.
- We are fully compliant with all legal frameworks associated with privacy and employment in Australia.
- We are efficient and trustworthy in providing our clients with accurate and affordable information.
- We follow a standardised process every time to avoid bias and give you only the facts.
Don't burden yourself with the daunting process of conducting employment checks. Trust your business decisions to us and let us help you mitigate risk when hiring individuals in positions of trust. Contact RecruitCheck today. We will provide you with a fast, efficient, personal, and unbiased background check while staying within your budget.
Pre-Employment Checks are a neccessary tool to mitigate hiring risk. Learn more!
Employment screening is a primary recruitment tool in australia.